Occupation: Online content creator and nutrition student
Age: 26
Handle: @strengthandsalad
Location: Leamington Spa,United Kingdom
2019'S RESOLUTION
I'm currently studying a 3-year nutrition diploma at the College of Naturopathic Medicine. I work a full-time job as well, so one of my big goals for 2019 has been to be more organised and intentional with my time. I love to plan and write out a to-do list every night which makes the next day so much more productive and less stressful.
For me, being active is a massive stress reliever but until this year I'd never prioritised exercise. Now I spend 30-45 minutes every day moving my body and I'm finally loving it! Sometimes it's a slow walk around the block or sometimes it's a sweaty workout session. I just make sure I'm listening to my body so that whatever I choose is nourishing and enjoyable.
Finally, I'm using 2019 to bring more positivity into my life. As soon as I wake up I spend a few minutes thinking about 3 things that I'm grateful for. They can be as simple as sleeping in a comfy bed, having a hot shower or making a matcha latte. I've found that doing this each morning completely transforms my mood and keeps me more positive for the rest of the day too.
MOOD RESET BUTTON
The first thing I do is stop, take 5 deep belly breaths and ask myself a few questions to try and understand why I'm feeling upset or frustrated – Is my workload too much? Am I tired? Have I drunk enough water today? Do I need a nourishing meal?
Once I know why I'm feeling that way, I can start doing the things that will make me feel better like taking a nap, re-prioritising my workload or making a healthy snack.
NUTRITIONAL PLAN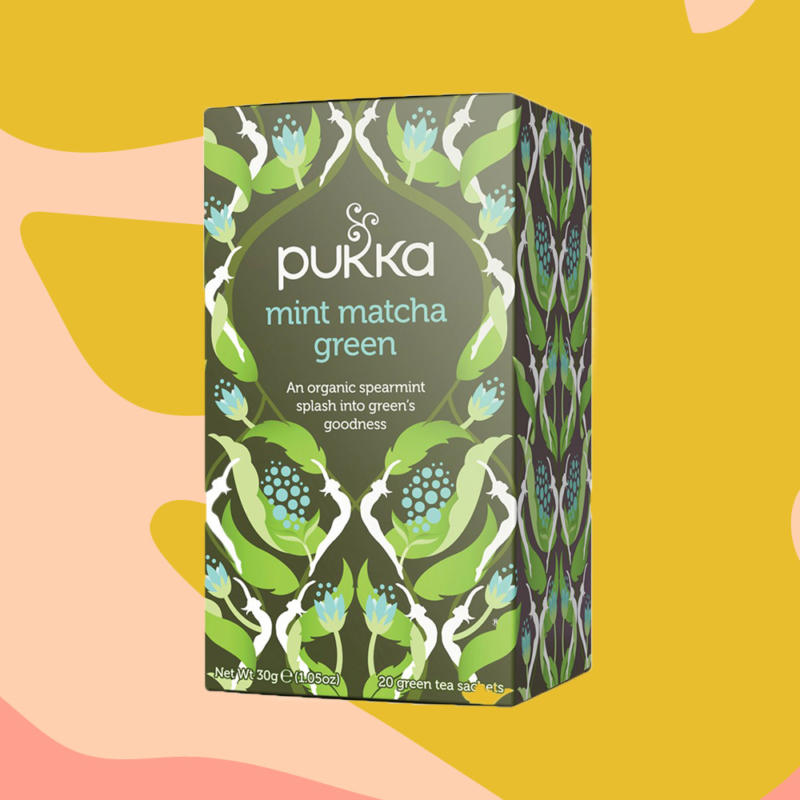 My diet has changed a lot in the last few years. I've gone from eating a meat-heavy and refined sugar-filled diet to one that's 95% plant-based. My motivation was wanting to heal my eczema, chronic anxiety, food sensitivities and digestive issues naturally. I started doing a lot of research and discovered the importance of our gut, and the role it plays in our overall health. Now I love supporting my body with healing foods that nourish it from the inside out.
Each week I try to eat 30 different vegetables, fruit and herbs to help keep my gut flora varied and diverse – which is key for good digestion! I also limit my intake of gluten and dairy and choose alternatives like coconut yoghurt, nut milks and gluten free grains. I eat a mainly plant-based diet so I love adding plenty of healthy fats into my meals to keep me satisfied and full. Some of my favourites are avocado, hummus, toasted sesame oil, sunflower seeds and cashews!
I also love sipping on Pukka herbal teas throughout the day. I start the day with their matcha mint green tea, which is packed with antioxidants. Then I'll have their Three Ginger tea that includes turmeric which is great for inflammation. And every evening I finish the day with their Night-time tea which is a blend of organic oat flower and soothing lavender which helps me sleep more deeply.
LOVE YOURSELF REMINDER
"Slow down and enjoy life. It's not only the scenery you miss by going too fast – you also miss the sense of where you are going and why." – Eddie Cantor
SELF-CARE ROUTINE
After spending all day at a computer writing blog posts or editing photos, I find it hard to shut off! I've found that practicing this self-care routine after work helps me wind down from the day:
I start by tidying my space. For me, a messy home equals a messy mind so I need a clear and organised space to be able to relax.
I have a warm shower and get into some fresh and comfy clothes. On nights where I have a little more time I'll have a bath using Westlab Epsom salts which contain magnesium. Not only are baths super relaxing but the magnesium from the salts increase GABA, which is the neurotransmitter that relaxes the nervous system.
After a shower or bath, I'll do 5 minutes of stretching to release any tension from the day.
And then 10 minutes of meditation to reset before heading into the evening.
ENERGY BOOSTER
My number one energy booster is a creamy cashew milk Matcha latte. Matcha is super high in nutrients and antioxidants, and gives me a slow and steady release of energy rather than a caffeine spike and crash like coffee.
I've been loving Kineta matcha lately. Their matcha is organic, ceremonial graded and grown in Japan, which are all really important to me when it comes to purchasing matcha. Maca is another superfood that's great for gentle energy. It has a nutty, caramel flavour so tastes amazing sprinkled on porridge or blended into smoothies. I buy mine from Naturya.
SEX-CARE IS THE NEW SELF-CARE
I've seen a lot of talk about reusable menstrual cups lately like the Lunette or Divacup. Whilst I'm yet to try one myself, I think reducing single use menstrual products is a great idea – and so needed!
For now, I've made the switch to TOTM organic cotton products which are made from natural biodegradable materials that are much safer for the body, and better for the planet too.
EDUCATE YOURSELF
One of my biggest passions is personal development. I'm always thinking of how I can improve my life and become my happiest self. Sahara Rose hosts a brilliant podcast called The Highest Self Podcast where she talks all about following your 'dharma' (your life's purpose) and shares so many practical tips and tricks in each episode.
In the evening, I try to stay off my phone as much as possible, and something that's helped me create this habit is having a really good book to read when I get into bed. The Self-care Almanac is a beautiful book filled with gorgeous illustrations and packed with ancient self-care rituals to help us feel more grounded and aligned with our purpose.