Before you read – A Malaysian model and a dedicated mom of two, Danielle Peita Graham shares with us her daily morning routine, and what motivates her dealing with a marriage breakup while maintaining an optimistic attitude – her love for her children. While having to juggle between work and family, Danielle found something that she could look forward to everyday – she combined her passion for writing and love for cooking into a self-published book.
Beating the Monday Blues
What make my Mondays better is keeping a journal for my children and writing things that we are grateful for. It becomes a wonderful ritual that we look forward to doing together. I think it is important to have a positive attitude and grateful heart to start the day. Also, it sets the tone for everything I do and put my mind to. I always remind myself to work hard and try my best in whatever I do as well. We can always learn from the experiences; so never give up even when things are not going well. Believe that things always work out for the best. 
6:30 A.M. — Start My Morning
My alarm goes off at 6:30 every morning. I was never really a morning person back in the days, but since becoming a mom I had to embrace changes. These days, I do not like to waste time sleeping in; I cannot wait to get up and start with all that I need to do. I know some people like to meditate after waking up. But I usually meditate at night before going to sleep. I use the help of Headspace for meditation. It has different techniques to help you calm your mind and focus on your breathing.
6:45 A.M. — Cuddle My Kids
After my kids waking me up energetically with cuddles, I always have my double expresso with manuka honey in the bed. Nothing is better than coffee and love, the best fuel to keep me going! If I feel frustrated and unmotivated in the morning, what I usually do is to read self-help books. They really help me to stay calm, focused and positive. A good friend recently gave me a wonderful book called "The Things You Can Only See When You Slow Down" by Haemin Sunim. It is an amazing book and I highly recommend it.
7:00 A.M. – Nourish My Body
Before heading out to take my kids to school, I take my daily supplements like vitamin C, probiotics, B complex and liver tonic pills. I usually take them with a big glass of lemon and mint water because it will be best absorbed with an empty stomach. There is no better way than to cleanse, hydrate and add a good amount of vitamin C to your system first thing in the morning.
7:15 A.M. – On Our Way to School
We leave home for school at 7:15 A.M. We love blasting the music in the car to pump up our energy levels. At the moment, we are into Bruno Mars, Dua Lipa and Ed Sheeran.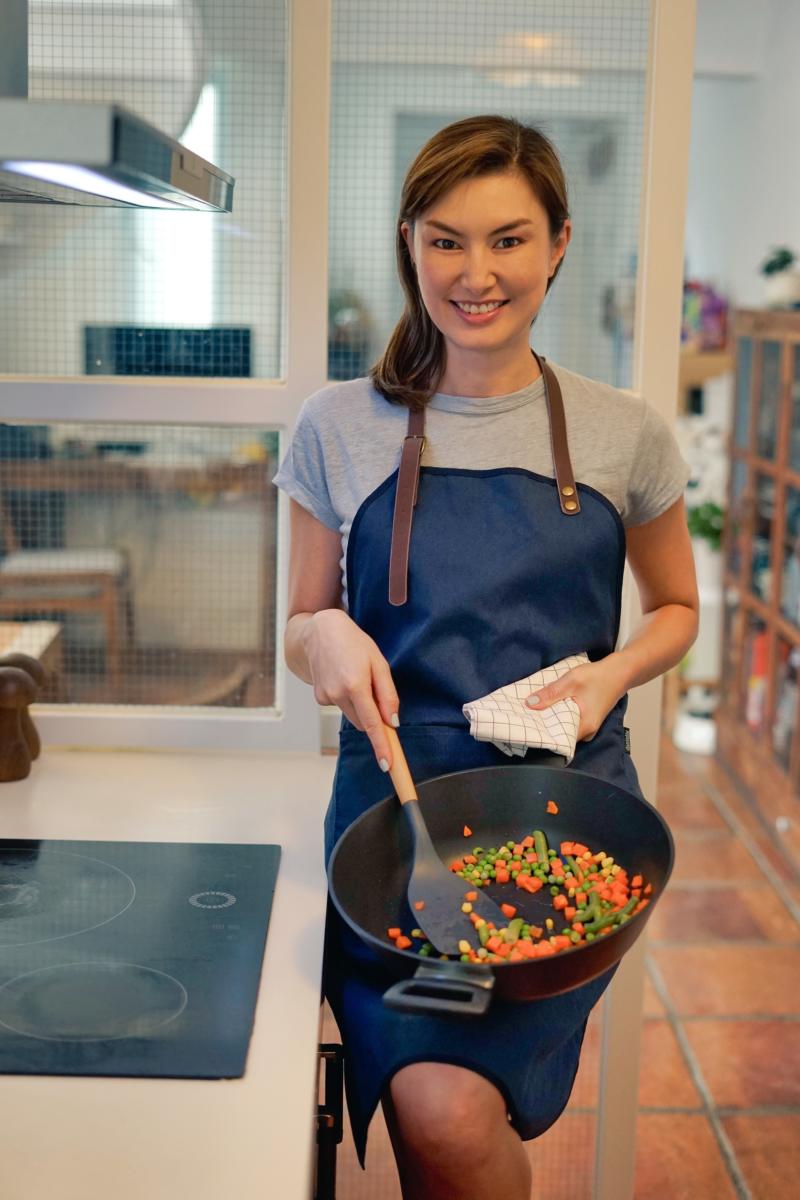 8:00 A.M. – Workout Time
8 o'clock is my exercise time. I practice yoga every other day. I usually go to my friend Dian's Sunday hatha yoga class at Be Urban Wellness. I love Claudia's dynamic flow and yin class at Yoga Flow. Sometimes, I will go for a swim and do laps with my kids. They always beat me! Other times, I will go on nature walks with my dad at Bukit Kiara park. Exercise is so important because it gives me more energy for all that I need to do. 
9:30 A.M. – Time for Breakfast
After my workout, I have a freshly homemade green juice with bitter gourd, cucumber, green apples, spinach and kiwi or red juice that made up of pineapple, orange and beetroot alternatively every morning. I drink fresh coconut water to hydrate and quench my thirst, too. When I crave for comfort food, I will make congee. Sometimes, I like to make fish or chicken stock that is fresh in flavour and has no preservatives. It is warm, nourishing and easily digested. The simplest things often taste the most amazing.
10:00 A.M. – Turning a Negative Situation into a Positive One
Before my cookbook, 'On the Table at Home', was officially published, I would start working on it after breakfast. At that time, I was going through a tough time since my marriage was falling apart; things were not working out and I could not pretend that everything was okay; so, I decided it was better that we lived apart. The breakdown of my marriage was a very painful time for my family and particularly for my kids too. I had to explain to them that we are still a family and he is always their dad. I was devasted, I felt like I was a mess and my whole world was falling apart. Some days I would spend time alone in my bedroom crying. I allowed myself to have those feelings. During the healing process, I kept reminding myself that I had to take care of myself in order to be a good mum for my kids.
"During the healing process, I kept reminding myself that I had to take care of myself in order to be a good mum for my kids."
To think on the bright side, it allowed me to re-think what I love to do in my life, which is writing and cooking. So, self-publishing my cookbook was definitely a great way for me to focus on something positive each day. It also gave me something to look forward to. Most importantly, it made me feel strong and gave me the confidence to pursue my dreams. I knew that the process was not an easy one because if anything went wrong, I had to bear the cost of everything. It was quite an expensive dream to make happen though as I shot the book in Sydney. Back in those days, there were many sleepless nights putting everything together, and it was especially challenging when I had to juggle all I had to do in my life as well – taking care of my family. Balancing work and family life was not easy. Sometimes, I felt so guilty when my kids asked me whether I loved the book more than them. But there was a proud moment for me when I went to my kids' school to present cooking lessons and gift my book to their classmates, they both looked so happy and proud of what I have worked hard for. It was worth all the effort and energy I have put in the end because the book turned out beautifully printed and people appreciate my hard work.
Visit https://www.daniellepeitagraham.com/ to learn more about her new line of Essential Kitchenware. Connect with Danielle at Instagram –@daniellepeitagraham,@onthetableathome and @danielleskitchenessentials