5 Best Morning Stretches that Will Boost Your Energy
Wonder how you can incorporate stretches into your work morning routine? Continue reading for more wellbeing tips…
Dark, cold wintery mornings can make it hard to get up and go with the same verve as we have during the bright summer months. Luckily, by making just a few tweaks throughout the day, you can boost your energy, your mental health and overall wellbeing.
A few techniques I use to stay energised when working long days in the Form office include: drinking fresh water regularly throughout the day; making time for 'movement snacks', where you get up from your desk, stretch and move about to get the blood flowing back around your body; and actual snacks, low GI snacks including carrot sticks with hummus, a handful of unsalted nuts, 2 hard-boiled eggs or a banana.
And breathe…
To improve energy levels throughout your day try breathing deeply into your belly as often as possible, take long breaths in and out to calm your body and mind.
By breathing deeply throughout the day you can also benefit from:
Boosting your immune system

Increase your cardiovascular performance

Increase your overall energy levels

Improve your sleep
The golden 10 minutes
I've found over the past couple of years that the best way to get your day off to a great start is to take 5-10 minutes as soon as you get out of bed to boost your energy and take a moment to pause before you rush into your day. Taking this time to reset before you start attacking your to-do list, you can approach your day from a place of stillness and calm. By making this daily routine a habit, you can improve your overall mood, wellbeing and keep your body supple and strong.
Try these 5 best morning stretches that can help energise your mind and body, preparing you for the day!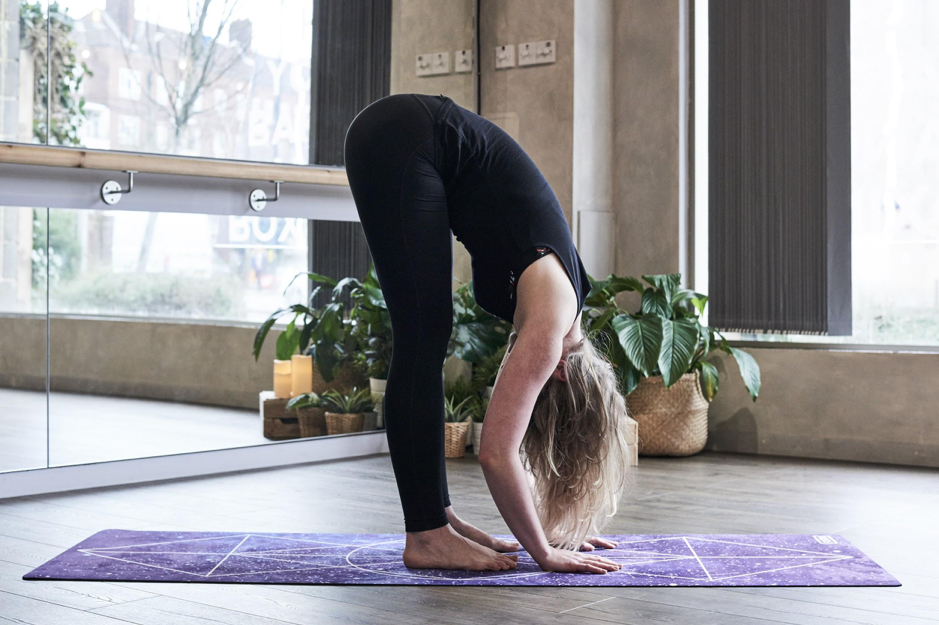 Rag doll /  Standing forward-fold
Stand and release your upper body forwards, over your legs, letting your hands float gently to the floor, if your body will allow. Keep a gentle bend in the knees to avoid over-stretching your hamstrings. Nod and shake your head to release tension.
Benefits of this stretch include:
Releasing tension and stiffness from the head, neck and upper back

Stretch the front torso

Strengthens the back, improving posture

Stimulates the belly, improving digestion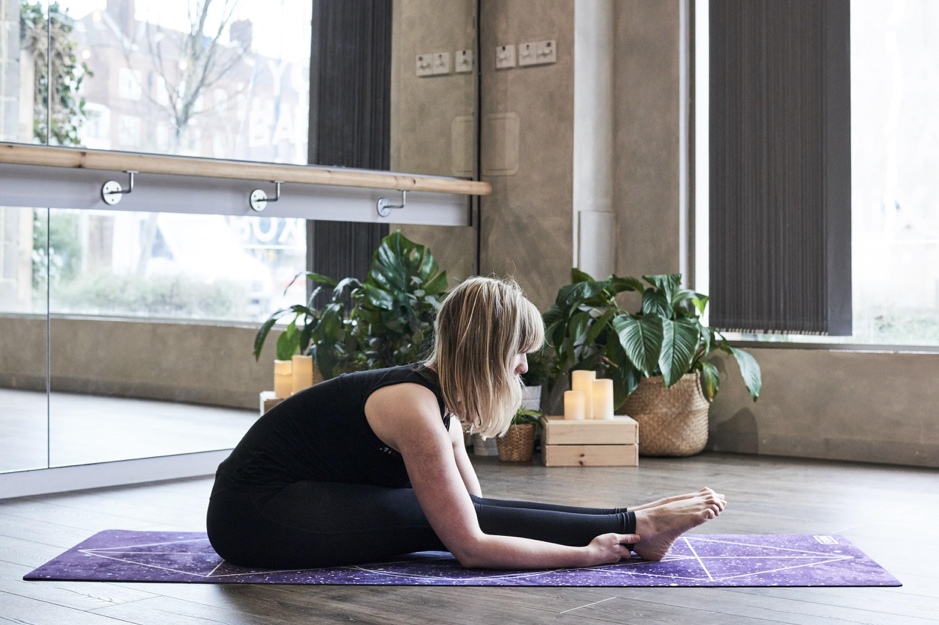 2. Seated forward fold
 Sit down on the floor with your legs out in front of you. Keep a soft, relaxed bend in the knees and gently fold your upper body forwards over the top of the legs, stretch forward as far as is comfortable.
Benefits of this stretch include:
Calms the brain, relieving stress and mild depression

Stretches the spine, shoulders and hamstrings

Stimulates the liver, kidneys, ovaries and uterus

Improves digestion

Soothes, headache, anxiety and reduces fatigue

Helps relieve the symptoms of menopause and menstrual discomfort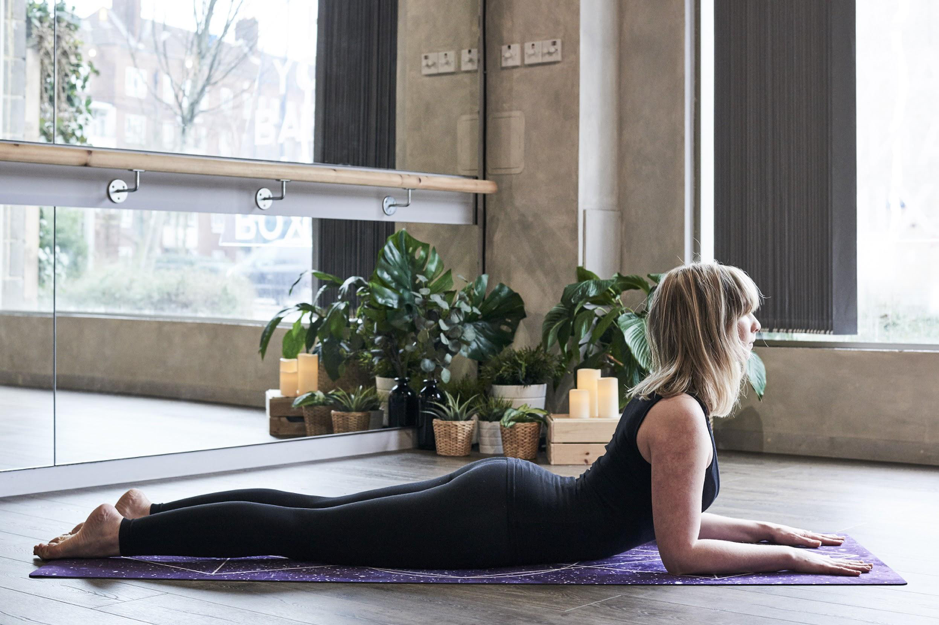 3. Half-cobra
Lay, belly-down, on the floor. Gently lift up the upper back away from the floor into a gentle backbend, using your forearms as support. Keep your head and neck up, with your gaze directly ahead of you. 
Benefits of this stretch include: 
Strengthens the spine

Stretches chest, lungs, shoulders and abdomen

Firms the buttocks

Stimulates abdominal organs

Helps relieve stress and fatigue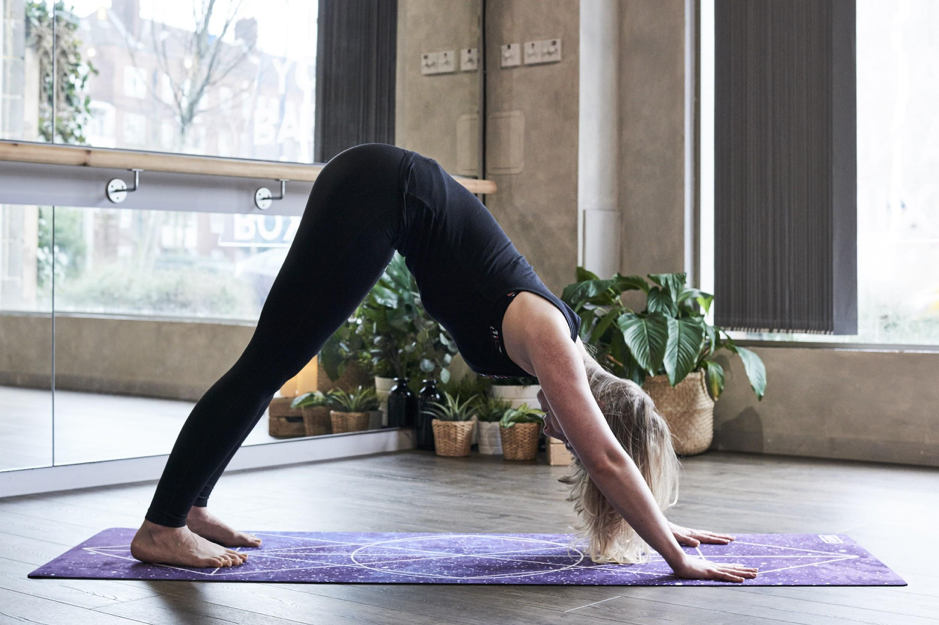 4. Downward-facing dog
Come onto the floor, on your hands and knees. Gently push your knees away from the floor, keeping the knees slightly bent and the back as straight as possible, pushing your tailbone up into the air. Keep your head and neck relaxed. Breathe deeply. 
Benefits of this stretch include: 
Calms the mind, helping to relieve stress and depression

Energise the body

Stretches the shoulders, hamstrings, calves and hands

Strengthens the arms and legs

Improves digestion

Relieves headache, insomnia, back pain and fatigue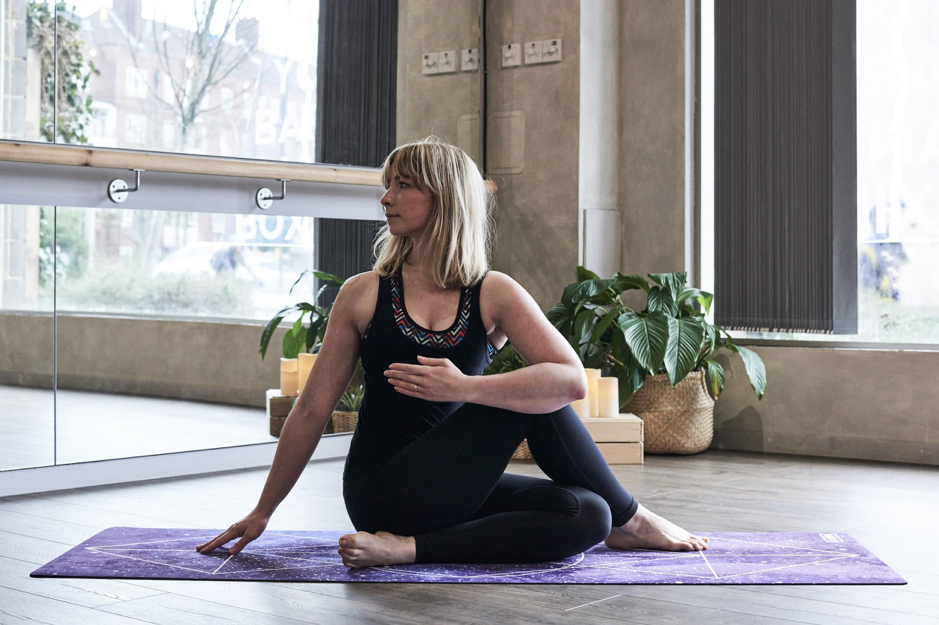 5. Seated twist / Half lord of the fishes pose
Sit on the floor with both legs straight out in front of you, bending the left knee, slide the left foot underneath the right buttock. Step the right foot over the top of the left leg, with the right knee pointing directly up to the ceiling. Take the right arm behind you and look directly behind you. Breathe deeply into your twist.
Benefits of this stretch include: 
Stretches the shoulders, hips and neck

Stimulates the liver and kidneys

Energise the spine

Stimulates digestive system
Heidi Benham is co-founder of Form: the carbon-negative fitness company. With a range of beautiful, high-performance and eco-friendly fitness products, Form is leading change within the fitness and well-being industry to make sustainable design the standard, not the exception. Click here to read more about their story.