We all like to be complimented and told nice things to boost our egos. Telling someone a kind thing is good for the soul. Though your man might radiate coolness, confidence, and independence, trust me: When he does something right, he definitely wants to hear about it. Giving recognition where it's due will not only bring you closer to your partner, but will also make him feel more secure in the relationship. That's always a good thing.
On January 24th 2021, it's National Compliments Day. Did you know that studies have shown that giving out compliments also has a beneficial effect on the person giving out the compliment? In other words, give out a compliment and you may make yourself happy as well. We spoke to 50 men to tell us what kind of compliment they want to hear. List them down – and use them!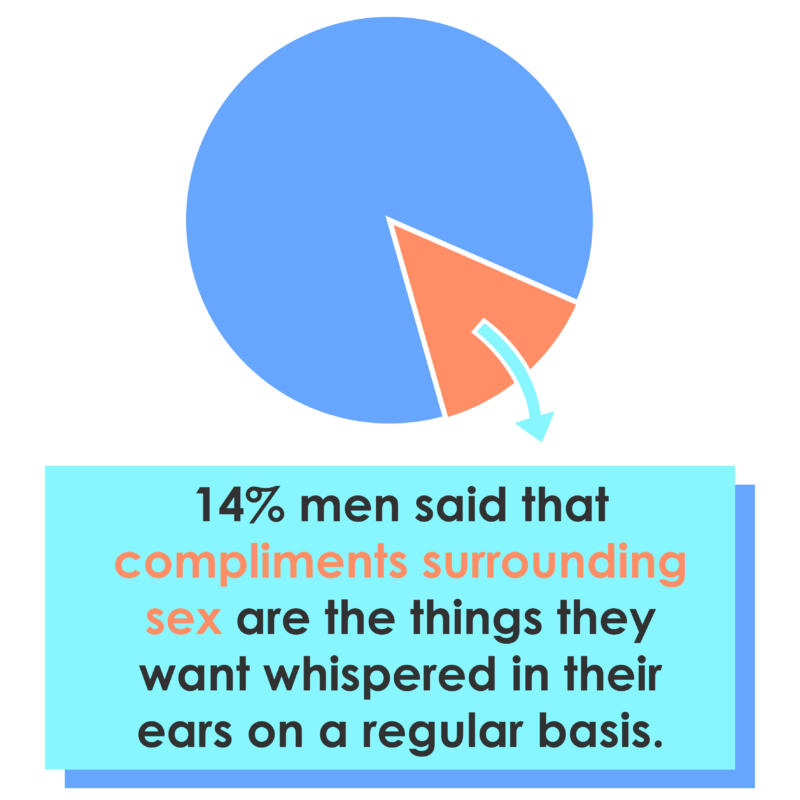 "Awwww… that's huge" – 25, Turkey
"Your voice is sexy…and I want you now" – 23, UK
"You know how to turn me on" – 19, South Korea
"Last night was the best night I have ever had" – 26, Hong Kong
"I love it" – 18, Hong Kong
"You make me feel so good (in bed)" – 24, Singapore
"Hey sexy, I wanna have sex with you right now" – 23, Italy
Another 14% say that the best compliments they can receive are around their treatment of you and the pleasure you find in your relationship…
"You are the only one who could calm me down" 35, Singapore
"How could I live without you?" – 20, France
"I feel so safe whenever you are with me" – 31, UK
"Thank you for your understanding… I really need that.." – 24, Hong Kong
"I love the way you treat me as your special one" – 21, Hong Kong
"It is relaxing to be with you" – 23, US
"I love myself better when I'm with you" – 23, Hong Kong
Next up, 26% of men prefer compliments around their intelligence, your acknowledgement of their achievements and the things that they can do for you, that you might find surprising.
"Why do you know this? Why do you know that?" – 31, US
"I am proud of you" – 28, Germany
"My hero" – 38, Hong Kong
"There's nobody out there like you…" – 29, Japan
"You've saved my day!" – 25, Hong Kong
"I could never have made that happened without you" – 30, Canada
"I couldn't have done it without your help" – 30, Hong Kong
"Why are you capable of doing everything !?" – 23, South Korea
"I have never thought that you would actually (doing something)" – 31, Spain
"I am proud of you" – 34, Germany
"How did you do that!? That was impossible!" – 22, Germany
"You've made my day" – 26, France
"I like how you (deal with something)" – 21, Hong Kong
It could be that your partner wants to hear that not only you approve of them, but your family and friends do too, like these 4% of men.
"My family likes you" – 21, Japan
"My friends said you were a good boyfriend and a perfect match for me" – 28, South Korea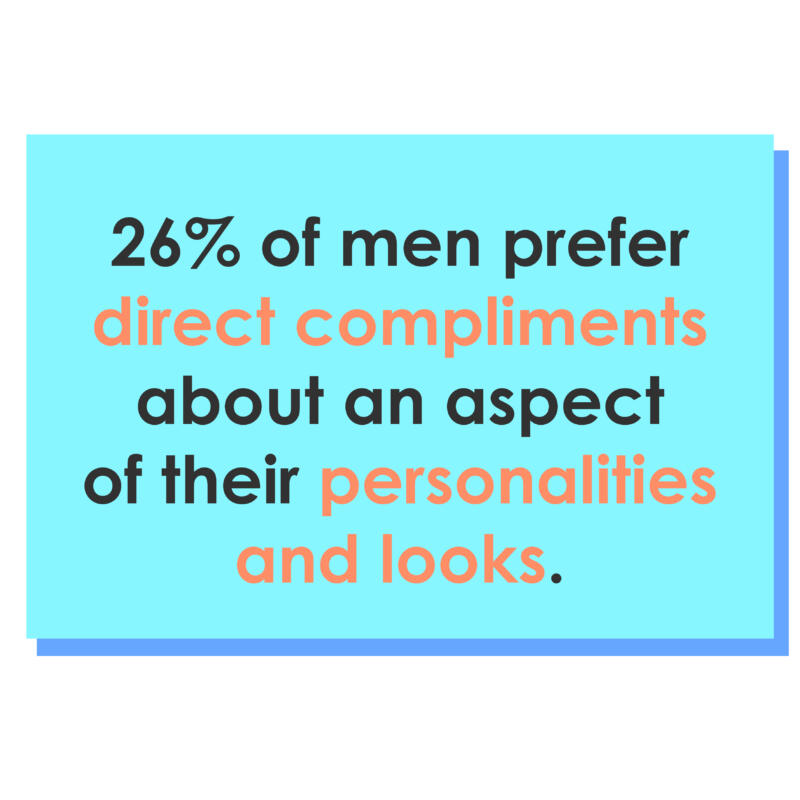 "You're such a reliable person" – 28, Hong Kong
"I love your smile" – 18, Hong Kong
You know me so well" – 19, Hong Kong
"Hello, the unique one" – 31, Italy
"You are such a great chef" – 29, Germany
"You look so damn good in the suit" – 27, Italy
"Oh, your outfit looks good today!" – 19, Hong Kong
"I have never met a man like you" – 28, US
"You are so hot, babe.." – 25, Hong Kong
"I believe in you" – 33, Spain
"You are such a good listener" – 29, France
"Thank you for allowing me to be a child in front of you" – 36, Hong Kong
"You cook better than my mom lol" – 31, Hong Kong
Finally, let's get deep with these lovely compliments around partnership, lifestyle choices and love – just like this 16% of men prefer.
"Thank you for being part of my life" – 19, Hong Kong
"Saying yes to you was my best decision in my whole life" – 34, Sweden
"Every morning when I see you, I smile" – 24, France
"I am proud of having you as my husband" – 31, Spain
"You are my biggest achievement" – 29, Netherland
"I love the way you are, not your achievements, not your wealth, but YOU" – 35, Indonesia
"You are my favourite gift" – 29, South Korea
"You've lit up my world, bae" – 24, France
Which one is your favourite? Do you have a better compliment?