Life is not only about work. Find time for work but also find time for joy.
Thomas Kollar: In terms of work-life balance, I think you have to know when to say no and not do it all because the natural inclination is to want to do more, but apparently, our body doesn't work this way. You do have to find some balance because your career is not the only thing demanding your time. Most importantly, you have to take good care of yourself by working on a healthy hobby.
Kim Bui Kollar: But for me, I think I definitely chose my work over my health back then. I'd work really hard during the day, but when it came to find a social situation like exercise I was like, 'Oh, I'll exercise later. I'll sleep later.' If I look back, I'd prioritise sleep and health a little bit. Those are really good habits to have for a good work-life balance.
Thomas: When we were in New York, I was a marathon runner. I'd just work and run. That was it. I only did two things for about ten years.
So, I think that is why I had a major breakdown back then. I was in London and I felt like I had had enough. And then, I just left and travelled to Nepal and India for three months, and interestingly, I ended up going to Bhutan and I spent two whole months there. Unexpectedly, I was working for the royal family which was quite a departure from what I was doing in London.
The next thing I knew, I was advising the royal family of Bhutan on some legal matters. By then, I had had the break that I really needed at that time and went back to New York.
Kim: I think I was close to a major breakdown. The business was growing so fast and there were more and more demands. I had been Philip's right hand since day one. So a lot of weight fell on my shoulders, like for the runway show. There was one season when we did one for New York Fashion week, then two days later, we did another show for American Express, and two weeks later, we flew to Seoul and did another one. And that was on top of everything else we had to do in terms of designing the collections and stuff. So, at that point, I was just feeling tired because things just weren't feeling normal anymore.
"Having that time of really being away from work, it just allowed me to hit the reset button and be ready to fight more battles."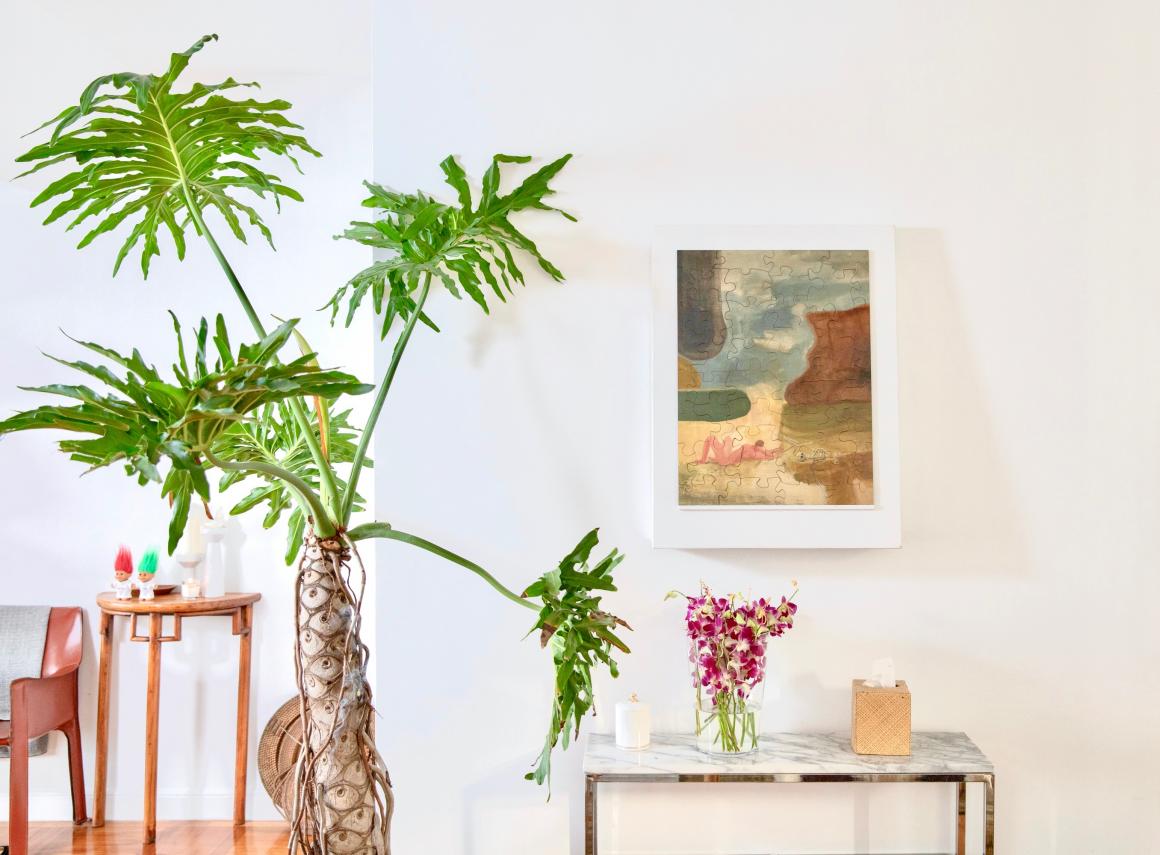 Thomas: I think the amount of time we were devoting our careers, to our jobs, was just beyond what anyone should be doing. We were doing easily, 100 hours of work back to back. Having that time of really being away from work, it just allowed me to hit the reset button and be ready to fight more battles. And then, I moved back to New York from London and had a new perspective on everything. Shortly after that, I met you.
Kim: Yeah. I met Tom and then we had this opportunity of moving to Hong Kong. I had never ever, ever thought of leaving New York because I thought New York was the centre of the world and that fashion happened there and I was like, 'Oh my god!' And he said, 'Well…what do you think? We could go for a year.' And I replied, 'What about we move to Thailand where I don't have to wear shoes and I can be in a bathing suit all the time?' (Laughs) But I guess Tom rescued me from a total burn-out.
I think, having distanced myself from at least 20 people who asked me questions all the time at work was pretty amazing, because then I could really sit back and think about how I wished to spend my time; what I wanted to accomplish in this time; and draw the limits from work. I reminded myself that I had to be completely present for what was going on. So now I get a break for my mental health from time to time. After that, typically, I will be totally feeling fresh and I able to accomplish everything with clarity.
Sometimes, I also think that when you're that busy, there are a lot of inefficiencies; you're just answering for the sake of answering, you don't think clearly about your answers, you don't think comprehensively about how you're dealing with situations.
Thomas: This is one of the reasons why I try to meditate whenever I can. I think that helps me to not only get focused but also quiets the busy mind. I've also found that you have to practice meditation like exercise because you don't suddenly become good at meditating.
Kim: Actually, I think I have just figured out how to allow myself to stop thinking about something. I just clear my mind and visualize my breath. So, I imagine my breath going in and going out. After a while, I have that clarity and I feel a lot calmer. Even if I'm so stressed that I wake up in the middle of the night, I meditate and go back to sleep.
Thomas: I think it's related to the fact that Kim grew up in that environment. Her parents are very spiritual Buddhists and they meditate as a family.
Kim: But I didn't know why I had this visual when I was a kid. I would imagine a pair of roller skates the wheels kept rolling and I'd imagine one going in front of the other, going in front of the other, until I would just be able to free my mind and go to sleep. It's fascinating.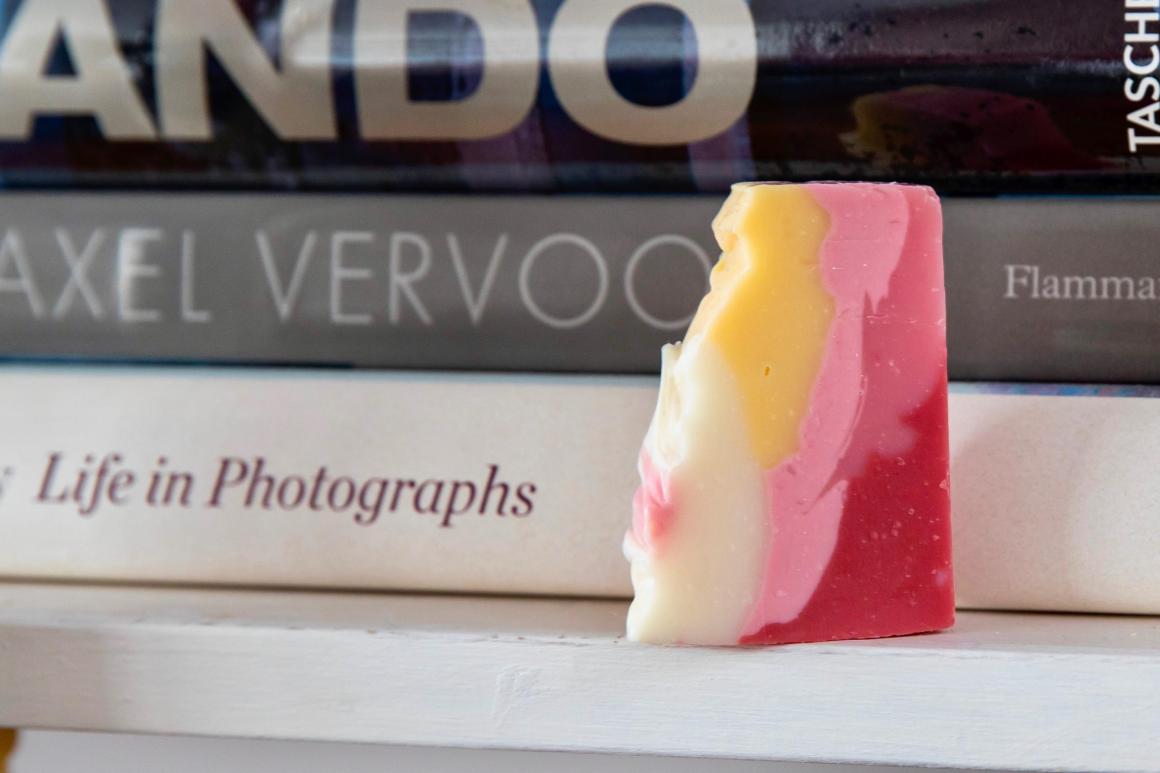 2 Easy Healthy Habits to Live By For a Happier Life 
Thomas: We eat pretty healthy. We're pretty mindful about what we eat. So what's your rule at home?
Kim: Five colours. I'm like, 'Do you guys have five colours on your plate.' This ensures they have all the nutrition they need. So, for me, I love clear soups. It could be vegetable based or beef based. I believe there's definitely good value in real food that you can put into your body and nourish your mind in so many possible ways. This is why we're not big processed food eaters.
Thomas: I'm very fortune to have a wife who is an excellent cook. She always makes delicious healthy meals for dinner every night, for sure. And sometimes, for my lunch as well. I usually have two client lunches a week and then the other three days I try to eat at my desk so I get home by 7.
I think in addition to a fixed diet, I work out every morning right after I drop the kids off at the bus.
Kim: I don't go to the gym but I do hikes on the weekends.
Thomas: We do a two hour hike every Saturday.
Kim: We play a round of tennis on the court as well which is really fun. It's very important to sweat it out.
The other thing I find pretty helpful is I drink a glass of water with sole, which is Himalayan salt  in the morning. I find salt water really helps me with detoxification because it has very purifying properties, especially with the Himalayan salt. It's neither iodized salt nor sea salt. And the best thing is, you can make it fairly easy – Just add some pink Himalayan salt into a cup of warm water, and then leave it there for a couple of minutes.
Thomas: I don't drink that but I like to drink pressed juice. In fact, I drink a lot of beet juice and a lot of water on a daily basis.
Keep yourself hydrated is the easiest step to a healthy lifestyle. People always ask me, 'What should I do to be healthier?' And I am like, 'Here's an easy one, just make sure you're drinking lots of water all day long – Stay hydrated. This is very simple! I mean, everyone can drink more water; you can't necessarily start running 5 kilometres every day or go to the gym every day but you can always have this going.
Shift Off From Work and Catch Up With the Loved One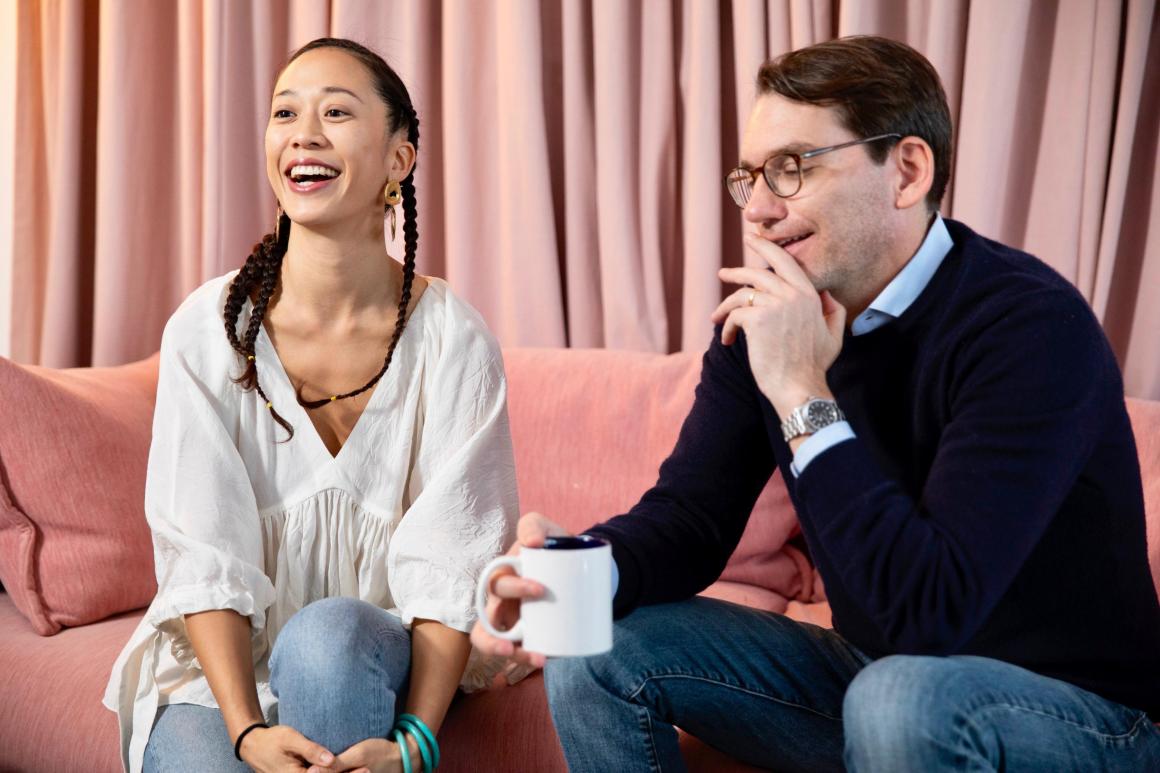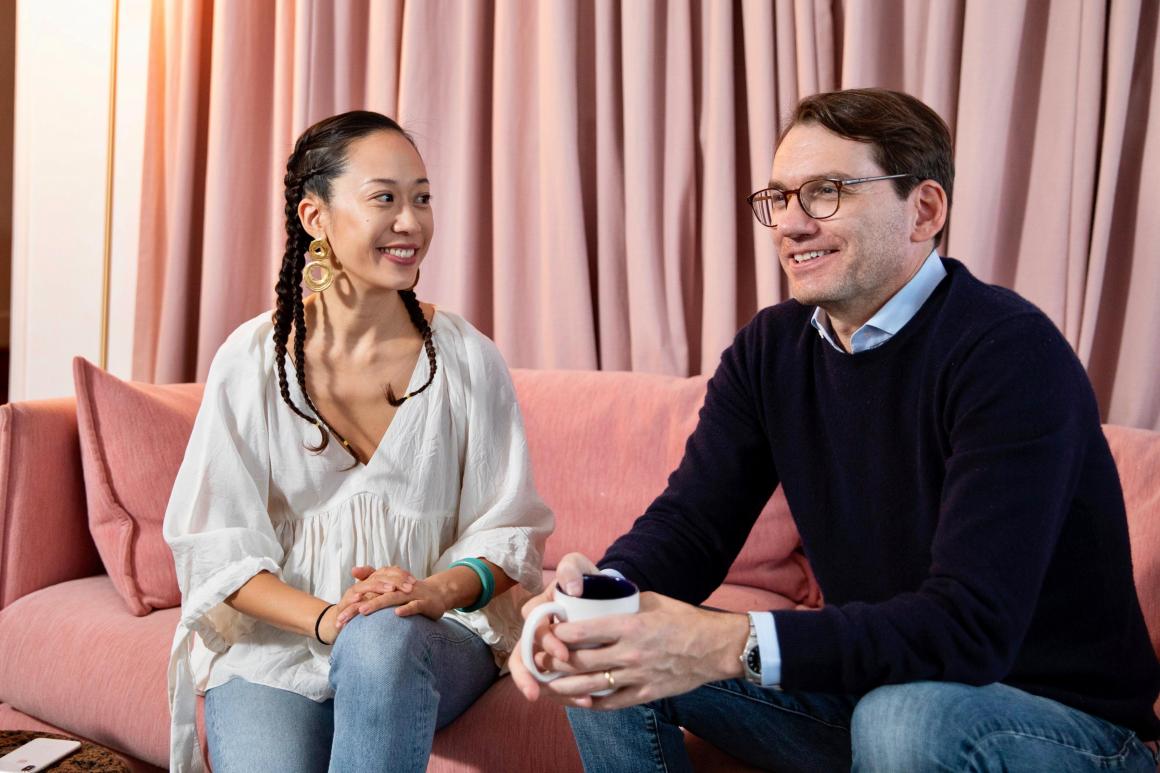 Kim: Our calming routine involves a glass of wine and some laughs. Tom is a very funny guy.
Thomas: We normally sit right there in the living room and have a glass of wine and just catch up for 15 minutes. And then, we jump back into the mayhem of the house – Put the kids down for bath, story time and get all the school books together.
Kim: Homework and everything.
Thomas: It's very easy to get lost in your job, your kids and forget to put the time into your relationship. So, we make sure to spend at least 10-15 minutes for the other person.
We also try to do something like go have dinner, just us two, twice a month. However, it usually becomes a quick drink instead because we don't want to spend 3 hours out and miss putting these guys down to bed, since on the weekdays, I only manage to see them an hour in the morning and an hour in the evening.
Kim: On the weekends, we're together all the time and we go on trips. At least one trip a year just the two of us. Just for a long weekend.
Thomas: I think this is important because it allows a sort of reset. You don't have to take a very long vacation. A weekend is probably enough, right?
Bonus – 5 Self-Care Tips You Definitely Want To Steal From Kim Bui Kollar 
Dry Brushing in the A.M.
Kim: I went to a farm years ago and the doctor there was talking about, 'Do you dry brush in the morning?' And we were like, 'Uh? Dry Brush? What's that?' He mentioned to us that, we should take time to dry brush our body when you wake up in the morning before you shower, or even before you eat. This is a really good way of waking up your body. That is where I learnt to do it.
So, before I discovered KARMAMEJU Body Brush, I was just using a regular dry brush that you can get at pharmacy store. But what I like about this brush is that it actually has these copper wires in between the horsehair. So the texture is a little bit harder than the typical bristles. With these copper wires, I feel like I can literally visualize blood cells moving and you also feel the electromagnetic energies in the body.
The whole process of dry brushing is meditative in a way because I do have to visualize things like transporting lymph throughout the body. And I'm have to harness the power of self-care while I'm doing it. So, this was an amazing find.
Perfect Comfort Drink on A Chaotic Work Day
Kim: I usually drink Four Sigmatic Mushroom Coffee Mix if I want to enjoy something in the afternoon. I am not a habitual coffee drinker but I do like to drink a nice, warm cup of something. It's very comforting, right? It's like a moment with yourself.
It is made with Chaga mushrooms and Lion's mane. The greatest part for people who are sensitive to the acidity of coffee is that it has the taste and smell of coffee but without the harsh acidity of coffee. My friend, Vanessa Hong, who is super healthy and takes really good care of herself, got me on this. And also, in psychologically, the smell of coffee does help you wake up your mind. I believe this is a bit caffeinated since Chaga mushroom does have caffeinated properties.
Alternatively, I drink a lemon grass tea from Thailand. It's so clean tasting in your mouth and very easy to make.
Turn your bath time into a nourishing ritual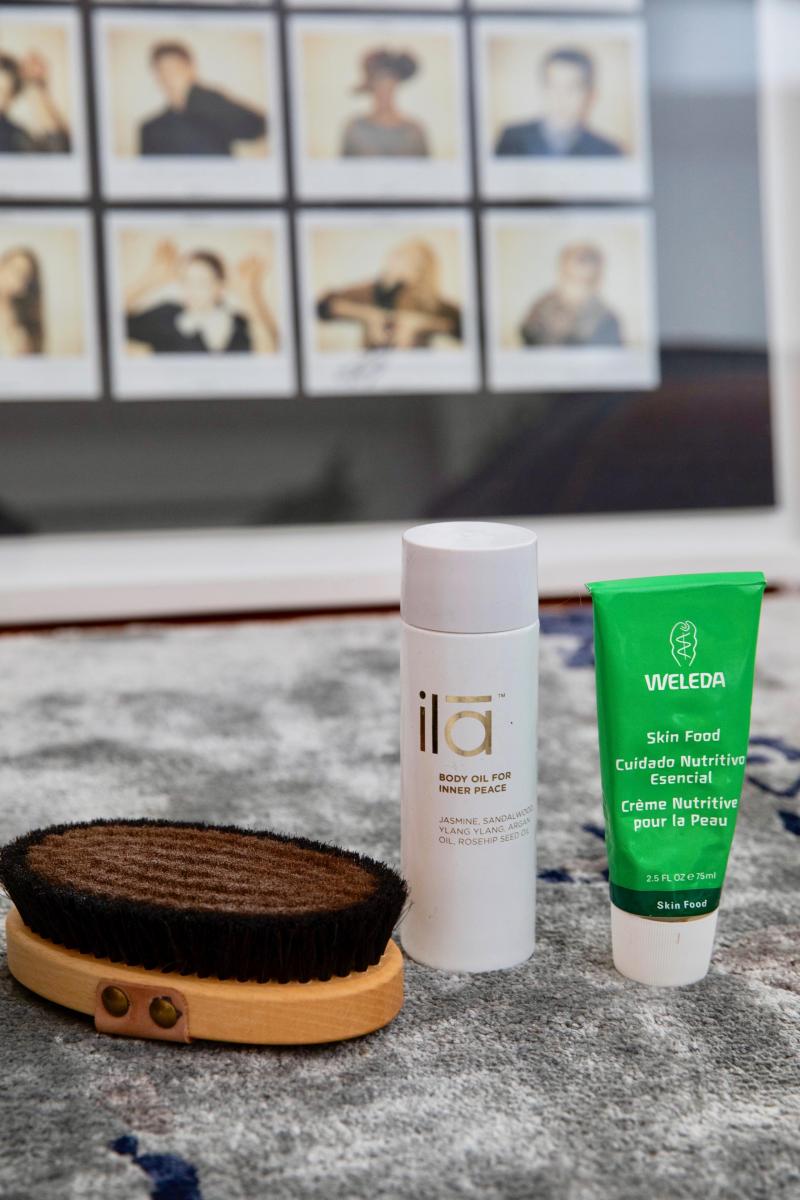 Kim: I love using these amazing soaps from NAAJ Studio. The soaps are made with natural essential oils that have amazing scents. You can tell the soaps are so different from other commercial soaps because they're made with so much love.
And also, when you use commercial soaps, it usually either dries the skin out or feels like a film over your skin because they have put a lot of chemicals and parabens into it.
I use ila Body Oil after a shower and before bed. This body oil has a very, very gentle rose scent to it and really moisturizing, but It does not leave a greasy finish on skin when the oil is all absorbed. It has a scent of jasmine as well which helps you relax and go to sleep. That's why I was so drawn to this. You just feel right pH balanced, not too alkaline or not too acidic. I mean, when you feel right, you feel good, right?
And then, there are two other fun things I use. So, if my skin feels super dry, I use Mountain Ocean Coconut Moisturizer. I personally think it's a little greasy for the hands but it's actually good for feet. It has a coconut flavour and smells really good. Alternatively, I use Weleda Skin Food for extra hydration. You can find them in Whole Foods in London and neither of them is crazy expensive.