Sarah Fung & Philipp Hanusch, founder & special counsel, HULA & Baker McKenzie, this powerful couple tells us how they compromise each other and their secret in maintaining a close relationship even with the craziest work schedule…
THE MOST IMPORTANT BACKER IN A START-UP IS YOUR SPOUSE, NOT YOUR FUNDER
Sarah Fung: Back in 2016, there wasn't a lot that people really understood about what pre-loved, pre-owned, designer consignment was. This was especially true with the Asian mind set, people were questioning it and judging why I would want to sell 'old' clothes. In the back of my head, these questions and judgements did put some doubt in my mind about my decision, like – am I doing the right thing? But I persevered and I knew that if there was a concept that's already working in the West, why shouldn't it work in the East?
In the last year, I've noticed a lot of changes in people's mind sets and they are slowly but definitely opening up to this idea. And also, once they get over that hurdle, it becomes easier. At the end, price wins. Everybody loves a bargain no matter how old they are. There are innumerable benefits of buying trios products but only very few reasons why you shouldn't.
Philipp Hanusch: Honestly, I was quite confident that Sarah was on the right path. I think she has done a great job in changing people's mind set since the launch, regarding the prejudice towards buying pre-owned clothing.
Sarah: The reason why I started HULA was because I noticed that there is so much fashion-waste in the fashion industry. It really made me feel sick to see it. Fashion is evolving so fast; people are constantly onto the next thing the next season. I was thinking, 'there are truly good pieces that people no longer want and why isn't there any place to consign those items?' Now there are other players in the market, so I know that we're on the right track.
Philipp was an immense support from the beginning. We did discuss at the end of my time at Lane Crawford, whether I should go into my own business or not. We both could see my future clearly, if I decided to stay working for someone, but if I decided to start a new business, we knew there could be a chance of a better lifestyle. I don't know how I managed to convince him, but he agreed with me and I'm really grateful to him for that. He's never made me feel that I was doing wasn't anything but valid.
Philipp: Well, that was an easy decision. (Laughs) Sarah had an idea she believed in and it was something she really wanted to put in action. Since I was confident that the idea was great and wanted Sarah to pursue her dream, it didn't take much effort for me to decide to fully support her.
"I think one of the reasons why our relationship works is that he would always reason with my unreasonable thoughts, which come and go."
Sarah: I'm lucky to have him as a companion along the journey at HULA. He's a fairly solid person and less emotional than I am. Throughout the relationship, I would blow off and do crazy things and he would just sit me down and say, 'Why are you like this?' Or 'Why do you feel this way?' And I would be like, 'why are you talking so sensibly to me?', 'Why aren't you blowing off as well?' But, he would never do that. He would always be very clam and rational.
I think one of the reasons why our relationship works is that he would always reason with my unreasonable thoughts, which come and go. You know, I'm not always that confident, although it may seem so on the outside. He's a lot more confident than me. I liked that about him when I first met him. I was drawn to his confidence and found that quite sexy actually!
Having a business can be an emotional roller-coaster. I would occasionally come home and either be laughing out loud or be in tears. He's always been there like a rock for me, through all ups and downs.
Philipp: But the ironic thing is, there's no reason for Sarah to lack confidence because she does knows what she is doing and she does it really well. Maybe she doubts herself sometimes, but at the end of the day, she works really hard for HULA and she manages to get things done. And of course, there are a lot of challenges along the journey but we try to master them together. To calm her down, I like to remind her of the many challenges she has overcome in the past and I hope that strengthens he belief that she can also work through new challenges.
Sarah: You know, running a business is never easy but I'm grateful for the amount of trust that he has allowed me to have. He understands the whole journey can be quite stressful. For example, we may have a phase when we're running out of money at HULA, or I'm working too much, had a bad day, or he might be worried whether we need to cancel holidays because I'm not ready to go and something like that will affect him. Luckily, we've managed to glide through quite well. (Smiles)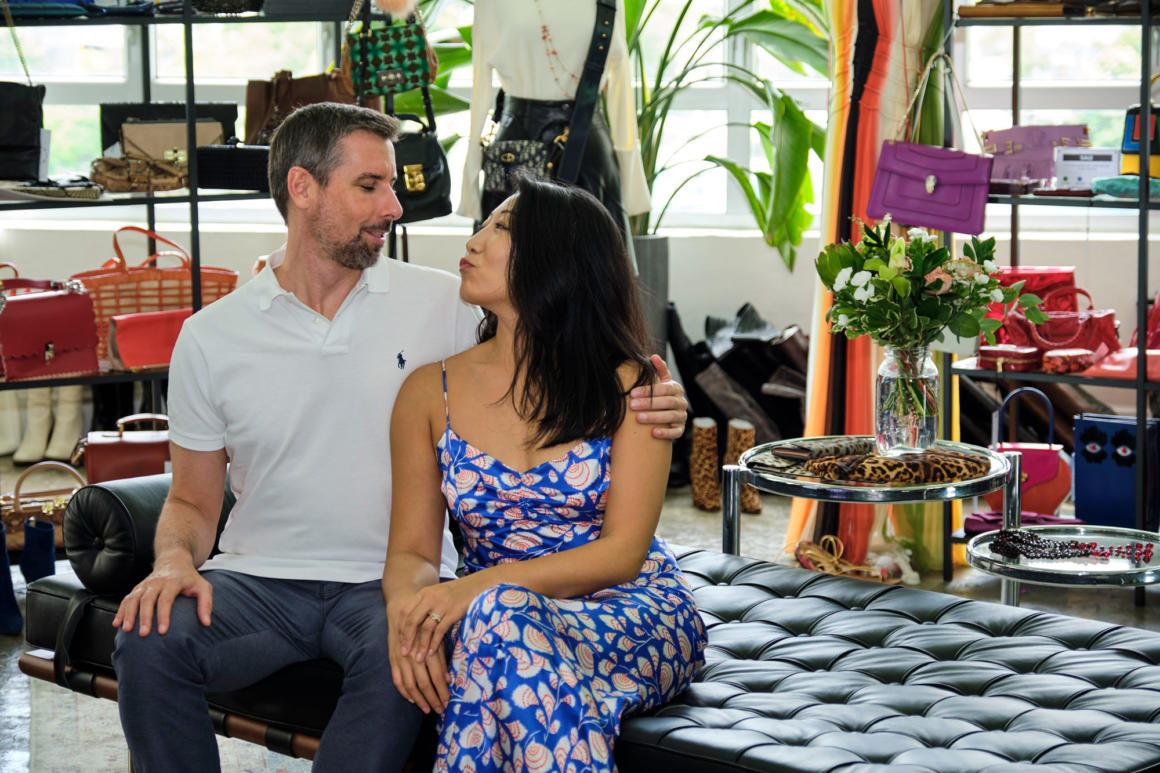 HOW LEFT BRAIN AND RIGHT BRAIN COMPLEMENT EACH OTHER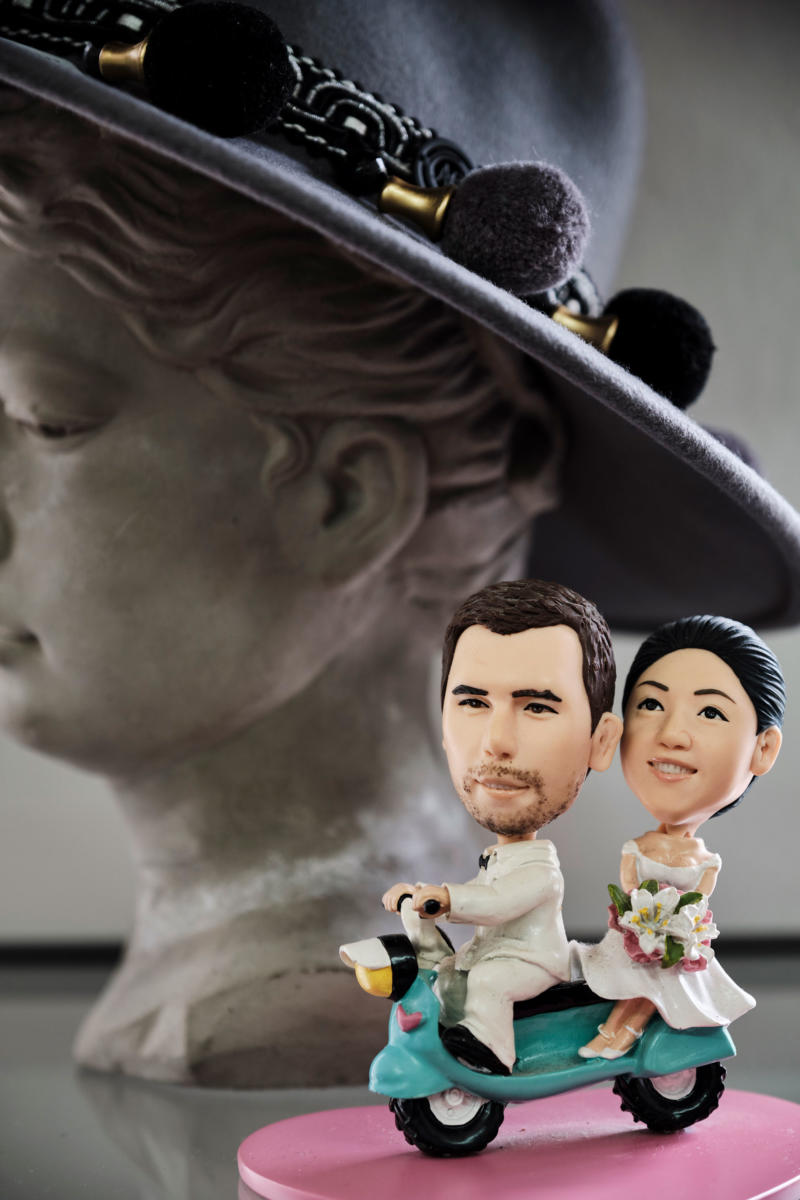 Sarah: What I understand about his work is that he's a lawyer in arbitration, and not that much more!
Philipp: I have always kept my work and private life as separate as I can. I don't like talking about work much in my private life since we already spend so much time at work anyway. Having said that, I think it's important for Sarah to understand that my professional life is nothing like the TV series 'Suits', where a file has a page or two, lawyers talk to each other for a minute and drink whisky (laughs). The reality is, it's nothing like that.
Sarah: Yeah, I don't actually know that much about the details of his work, but he'll tell me about his personal feelings that have to do with work.
Philipp: With Sarah's business in HULA, I don't have a deep understanding either. But I do have some insights. For example, I have become more aware of the problems with fast fashion and pollution.
Sarah: What I have learned from Philipp is, how he works because I'm a right-brain person and he's a left-brain person. I think he's probably a very, very left and I'm more like I'm right with a bit left?!
Philipp: But of course, she's always right.
(Both laugh)
Sarah: I have definitely learned a few things from him being a lawyer – Be more detailed and punctual because these are not really my traits.
Philipp: Well, it goes both ways because as Sarah says, I'm very left-brained, so I tend to be logic-oriented and more analytical. She's a very emotionally intelligent person. So, I've learned a lot in the area of navigating social complexities from Sarah, like understanding my emotions but also those of others, and then to understand how that actually affects things and how to deal with them.
I think I have definitely come a long way, and luckily, emotional intelligence is something you can improve and enhance. This is something I've been working on.
Sarah: We're very opposite people.
Philipp: It's also very helpful in my job because it is about building client relationships and helping clients at the end of the day.
Sarah: Sometimes, when I'm having real problems for example I want to write an email to someone and have a go at them. I would actually call him and ask, "How should I manage this?" What should I put in there from a legal stand point, and make sure that I have all of those things listed in that email. Yeah, he's quite good with helping me with those types of problems.
Philipp: Don't say things which you'll regret tomorrow. For me, it's the interpersonal skills and relationships where I can make use of Sarah's advice. Such as, dealing with problems in personal relationships. So, it's always useful to have a discussion with her because I see things very dry and it's helpful to get a different perspective. Maybe I don't consider another person's position enough or how that other person might feel about things and their perspectives, so it definitely helps me a lot to see things more from different angles.
THE MOST CHALLENGING TASK THEY'VE ACCOMPLISHED INDIVIDUALLY BEFORE HULA IS… *HINTS: THAT INVOLVED EMOTIONAL SETBACK
Philipp: We have similar experiences when it comes to our career paths. We both experienced moving to another continent. Originally, I came here to work only for six months. But after a short period, I got the offer to stay long term. I stayed and become a qualified lawyer here. I think moving to Hong Kong was probably the biggest decision in my life so far other than proposing to Sarah. (Laughs)
Sarah: But when I moved to Hong Kong from London, I had closed my own business – Lingerie label over there, which really made me feel quite sad. I still remember having a complete emotional setback when I was at the end of my business. There was a day I had literally started pulling everything off the shelves and I screamed really loudly. I'd never really been that angry in my entire life but I just felt like I had to do it to make me feel better. After that, I broke down in tears for hours. I really felt like I had lost my identity like I didn't know who I was anymore. So, moving to Hong Kong was an escape for me. You know, a change of scenery always helps.
Philipp: I had faced different set of difficulties compared to Sarah. I was in a great career path with a promising and successful career back in Austria. And to leave all that behind, sell most of my belongings within 3-4 weeks, move to Hong Kong for good, settle down here, and getting used to a totally different, unfamiliar legal system was definitely the biggest challenge but I think I've mastered it, and I'm happy I did it. Looking back, I have no regrets, my life would have turned out quite different if I had stayed in Austria but I think I'm quite happy. I would have never met Sarah otherwise. How could I ever regret that, right?
(Both smile)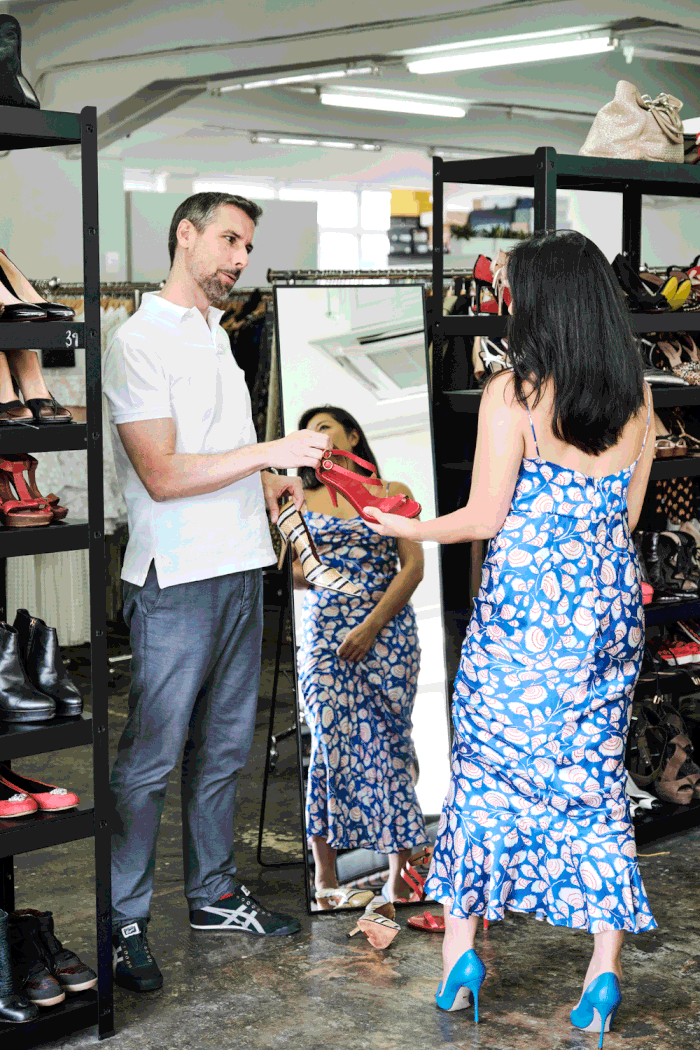 Sarah: But yeah, the transition wasn't easy for me either. Firstly, I didn't feel fully Chinese and coming to Hong Kong as a Chinese expat was hard. Also, before I worked for Lane Crawford, I had never really worked in a corporate entity before. I didn't even know how to cc people in emails properly. I kept cc'ing the wrong person and was getting told off all the time (laughs). I used to own a business in London and suddenly I had a boss and bosses, a company structure and some big personalities to side-line. Everything was overwhelming!
I've definitely had some down moments at HULA too. I co-founded it with my sister but she left in my first year; so I had to take over her job, plus and I had also taken on a part-time job to get some extra money. I kept thinking, 'How am I going to do this?' But in the end, I actually managed it and it all worked out ok.
Philipp: She's a really hard worker. I work hard but I always say it's nothing compared to Sarah.
Sarah: For me, there's always a way to work through tough times.
Philipp: And sometimes, we have to learn and ask for help if it's too much and beyond what we can handle. It's actually quite important to be aware of this and to get help if we need it from other people.
Sarah: Another thing I notice is, if we don't have a holiday or break for three or four months, I do get really tired and sluggish.
Philipp: I think in my job there are phases where the workload can be quite high so that you can't take any time off. If that period becomes too long, I do feel like I have no energy in the tank. I have definitely had times in my career where I felt that I had really low energy. The way to deal with this is, taking a holiday at the end of the day because you got to take time off to re-energize. But if I don't have any opportunity to recharge that way, I will at least try to make sure in between that I get good sleep, because high quality of sleep is really important to get energy during the peak season.
Sarah: He does love his sleep! Philipp is very anxious when he doesn't have the right amount of sleep.
Philipp: I can see a significant difference in my day when I had a bad sleep and when I had a good sleep. The performance is quite different; I can get so much more done when I had a good sleep.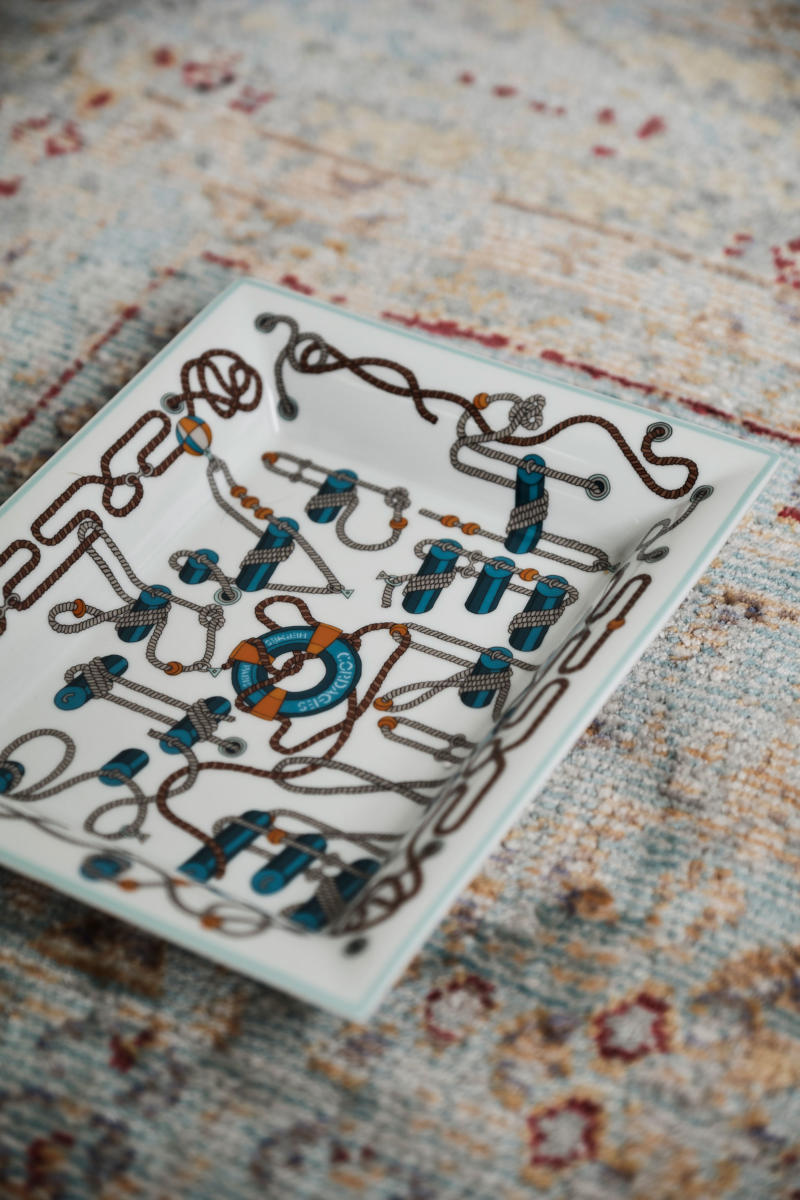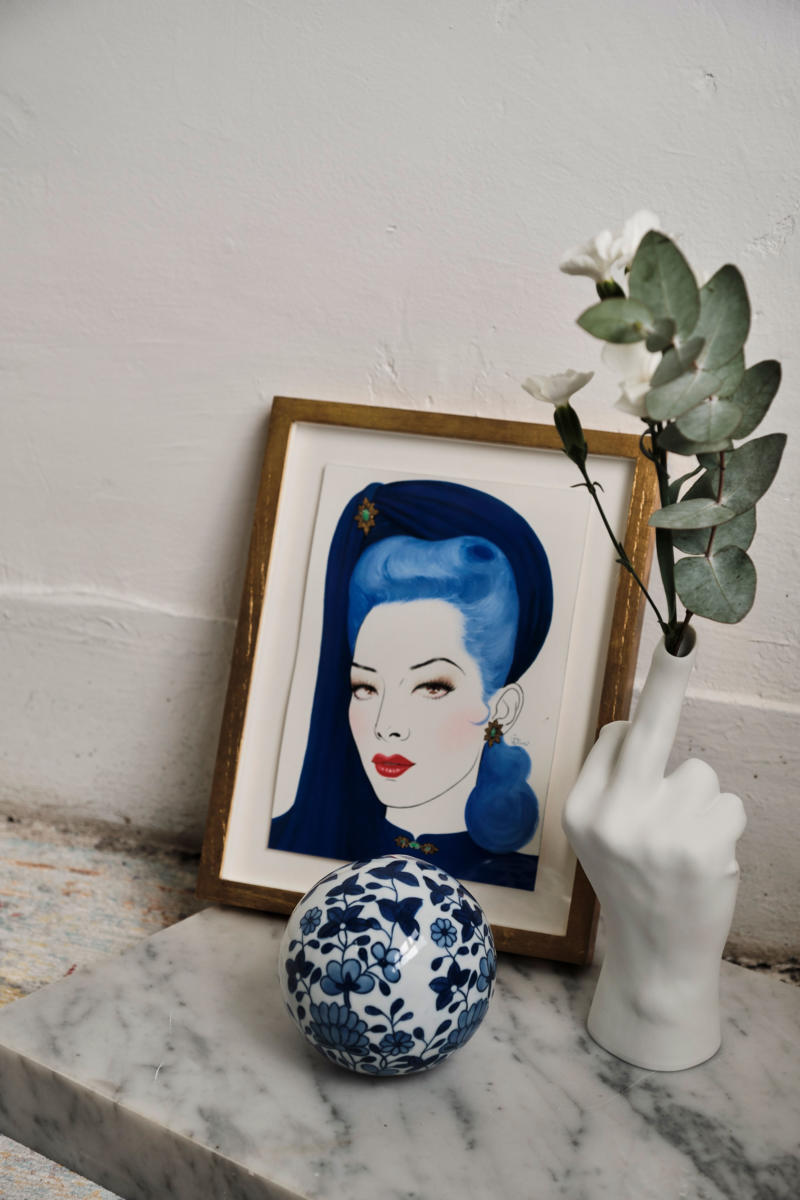 HOW TO MAKE THE RELATIONSHIP WORK EVEN WHEN THE WORK SCHEDULE IS CRAZY
Sarah: I love my work. My work schedule at HULA tends to be pretty crazy. Even when I'm at home, I'm usually working on the side whilst he's watching TV and I don't mind it actually. But luckily, I'm quite good at powering through and managing what I need to do during the days.
Philipp: I have a very demanding job and striking a good work-life balance is a big challenge, which can sometimes be very difficult. Very often, you don't get the right balance. But I think what I've got to try at least is find some time where I can really put down the phone stop checking on work and find time for myself and for us.
"…I think what I've got to try at least is find some time where I can really put down the phone stop checking on work and find time for myself and for us."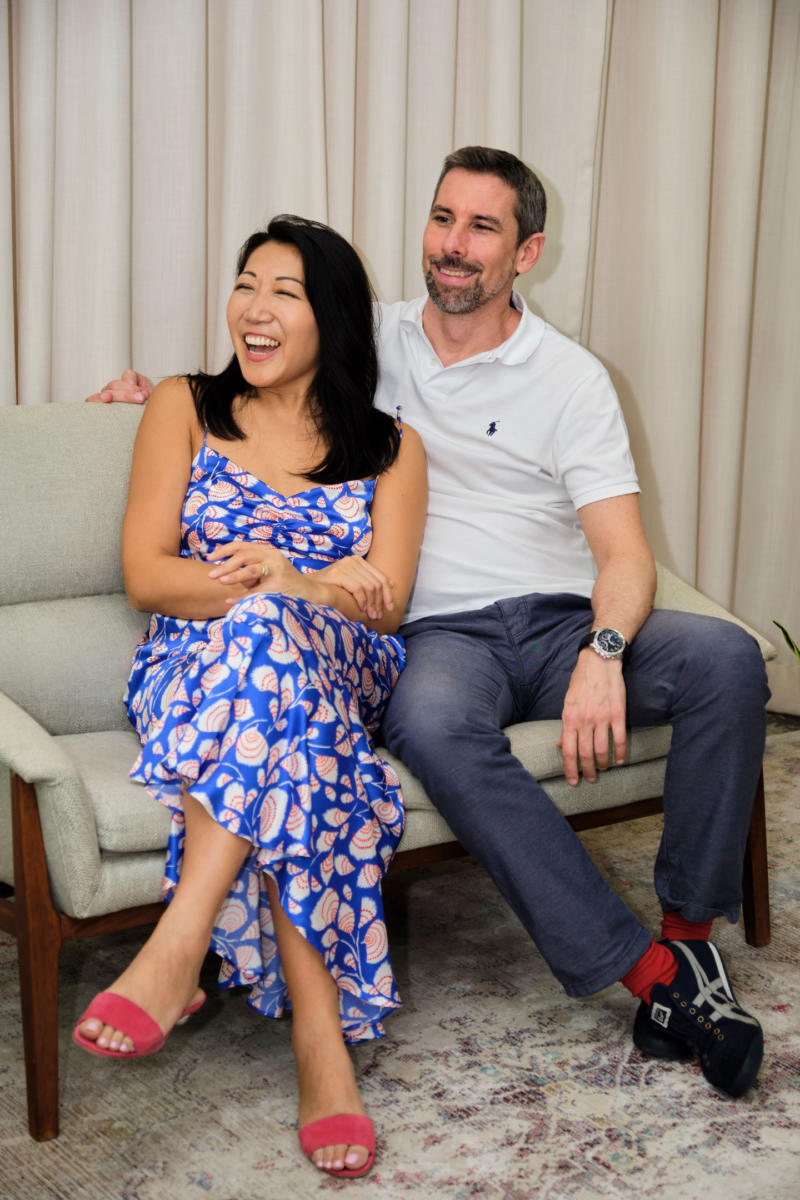 Sarah: For us, Sunday is always a good day to rest because our HULA warehouse isn't open. So, I technically have a day off. We both love to spend time at home and home is my heaven. If we get a Friday night, a Saturday night and a whole Sunday at home, I get really excited about the weekend. I love just cosying up on the sofa, getting some good food, a bottle of red wine then waking up to a good breakfast together. But sadly, those weekends don't always happen and most of the days, I do have to sacrifice the time I can meet my friends because I choose home first.
Philipp: Yeah. During the week, I also try to push Sarah to come home earlier, at least at a time that leaves us maybe an hour together before we go to sleep.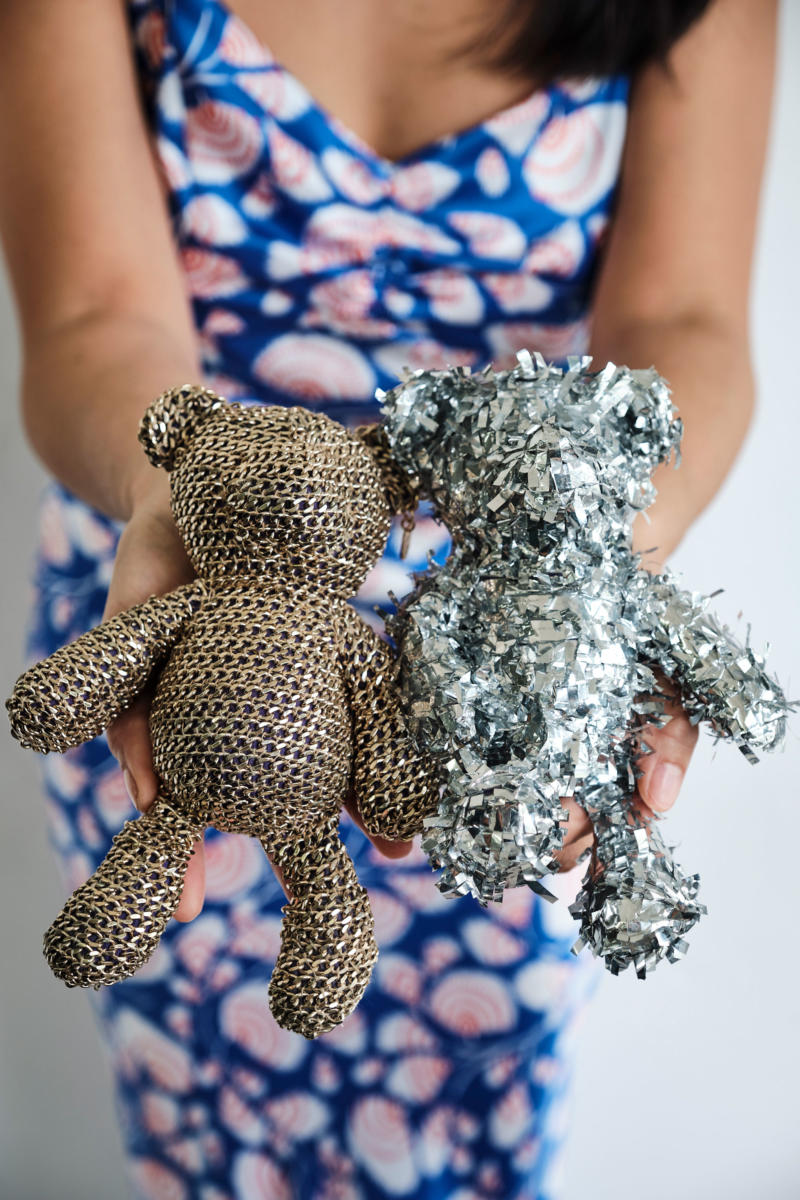 Sarah: He'll always call me when he finishes work and he'll be like, I'm going home now. How about you? And I'll always be like, "Oh! Soon, soon, soon," and then he'll call me in another hour and ask, "Are you coming home yet?!" We also understand that the hardest time in my business is also the first few years.
It's good that he's very independent and we don't have to do everything together like go to see our friends together all the time. We do a lot of stuff separately and it works that way. He doesn't keep pressuring me to take days off and rarely complains, 'Why you're working again?'. He's very cool with knowing that we have a timeline and this is what it is, especially for the next few years.
Philipp: I fully understand the difficulty with the amount of time Sarah spends at HULA. She works six days a week, and she often comes home late on weekdays. But I do make sure that we make time for each other and sacrifice other things I want to do, as Sarah said. It could be seeing my friends less or doing something less like pursuing a hobby because if we don't make enough time for each other, we will start drifting apart and we might only realise it when it's too late.
Sarah: If I feel like I haven't seen him for a while, I make sure he knows and tell him "I really miss you!" And then, he'll be like, "Oh okay!" and that's the cue to spend some time together." We'll make sure that we spend as much quality time together and tell each other that we appreciate each other's company. And say thank you.
Philipp: Or, just pick up the phone sometimes. Even if there's no time to talk at least I can show her I'm thinking about her and trying to call. If there's no time, maybe another time, but at least she knows.
Sarah: Yeah, we still send stupid jokey texts to each other.
A GOOD HEALTHY DIET FOR A BETTER PERFORMANCE  
Sarah: I'm almost a vegetarian on weekdays, so I eat quite healthy and usually it's like salads, soup or a wrap. I actually do believe in having a good diet, because when I start eating really unhealthy food for a long period, I start feeling a little bit down and I can't think straight. My brain doesn't function well. So, I do like to keep a better diet generally.
Philipp: I was quite the opposite in terms of a healthy diet, unfortunately. I used to never have breakfast, for example. But now, I have changed to at least eat something in the morning. Luckily, we have Nood Food next to our office and that really has helped me to eat much more salad now. And also, we have a little cafeteria at work where you can buy cold-pressed juices. I have even started to drink green juice now, which is very unusual for me. Actually, my diet is getting better.
Sarah: I used to make cold pressed juice at home, and I had to disguise the kale that I put in there with orange juice and apple juice, and hope that he doesn't notice. When I sneak in some 'dark green stuff', he would be like 'What have you put in there?' and I would be like, 'Oh, just apples.' (Laughs)
Philipp: I often like to starve myself during the weeks, so that I can indulge myself with good food on the weekend.
Sarah: Yeah but that not healthy.
On the weekend, I often use the time to make some delicious food. I am a foodie and I do like to cook. Some days I cook pasta for him; on other, I will make Asian dishes such as Spicy Minced Lamb or Sesame Encrusted Tuna. Our Friday night thing is quite often a Pho. For us, having breakfast together on a Sunday is really important and for Sunday dinner, I will make something healthier like salad. 
Sarah: So, in terms of a healthy snack, my favourite go-to snack is vegetable dips and hummus or nuts. If I crave for something sweet, I actually really like Marks & Spencer's gluten-free cereal. I like having that with some natural yoghurt, and I add some Chia seeds to it. It's sweet, like a snack but it's healthy.
Philipp: The healthiest snack I have during the day is the green juice and I eat quite a lot of blueberries.
GETTING THE FITNESS GAME BACK ON TRACK
Sarah: I'm trying to be more active. It was about 6 months ago that I had an operation plus I had hurt my arm – I got tennis elbow from lifting off rails clothes can you believe? I became really unfit after this. For the last two months, I have been trying to go to the gym at least five times a week; either once or twice a week yoga, cardio, and occasionally weights. I really like doing stuff like body combat or running. But my favourite is yoga actually. I have been doing it for a few years but I just find that it's not really keeping me toned the way that I want. I am now just stepping up the game, that's why I'm doing cardio and weights on top of that.
Philipp: I did a lot of sports when I was young. But since I am working, I either end up doing do a lot , or nothing at all, because there is no time. For me, the most difficult part is then to get started again. So, until last year I did a lot of yoga actually. And then, I really got into it. I tried to go three to five times a week, but I had to stop last year because of back problems. And since then, I haven't done much exercise, so I need to get back on track –gym and yoga, but also rehab exercises like Pilates that help my back.
As we all know, core exercises are hard and boring. I am still working on overcoming my inner temptation, and getting into the routine again. Currently, I'm still at the phase where I'm not working out much and I should do much more. But I definitely will get back to the phase where I make more time to work out because it obviously makes me feel better mentally and physically.
WATCHING TV MAY BE A GOOD WAY TO REST YOUR BRAIN 
Sarah: I think when we face difficulties in life, and if we go to sleep without really knowing how to solve the problem, it often leads to sleepless nights. So, what really helps in dealing with your problems is keeping an 'outside person's' perspective and just thinking, "Okay, this isn't so bad. We can manage this. Tomorrow, I'm going to do this and this." Then I know how to solve the problem. Another thing that also helps me is this 'Biocol Labs' spray 'Something for Dreaming' I just brought back from London. I actually bought one for Philipp and he loves it.
Philipp: It does help to calm me down on days I need it. For me, it's difficult to have a good quality of sleep when I work long hours and don't have any downtime between coming home and going to bed. It's almost impossible to turn off my brain because it's still processing and that's when my sleep is not the best.
Sarah: I notice that he likes to watch TV to turn off his brain and I think that's his way of not thinking. Sometimes, when I come home, the TV is just on but he's not really watching it. It's just there.
Philipp: Most evenings during the weeks, I will just let it run. I more use it as a background theme while I'm processing what has happened today and what I need to do tomorrow.
Sarah: I don't like to watch crap on TV when I am alone, I feel guilty and I think that is a waste of my time. I don't watch TV by myself much at all but rather save TV-watching as a hobby we do together we watch programs like The Handmaid's Tale and Game of Thrones together.
BONUS : 5 SUSTAINABLE LIVING TIPS IN MODERN LIVING 
Sarah: We try to use as little plastic as possible. We also try not to waste food. In terms of washing, we try to conserve as much water as possible so, we don't wash our clothes THAT much but don't tell anyone. (Laughs) In terms of my own wardrobe, I actually use HULA a lot. I would buy and sell through here. It's really a brilliant idea to live a more sustainable lifestyle because I can get a new wardrobe, and a few pieces swapped in and out. This is why I really encourage other people to do that as well. Once they start doing it, it's actually very addictive.
Philipp: I think for shopping, I'm definitely very conscious now of what to shop, especially anything that comes in plastic. I was shopping the other day and there was a person in front of me in the queue, and almost every product he bought was wrapped in plastic; even the bananas were wrapped in plastic. There are so many things that don't need to be in plastic. For me, I always try to look for an alternative, so and I try either not to buy it or buy it from somewhere where it's not in plastic. I'm quite conscious of that, but it's not always easy in Hong Kong.