Will My First Vegan Afternoon Tea Also Be My Last?
Farmacy, 74 Westbourne Grove, London W2 5SH
It was with a sense of foreboding that I visited Farmacy. The restaurant name conjures up an image of sterility and bitter-tasting medicinal food. How will afternoon tea, the most indulgent and quintessentially British of treats, be adapted for a shrine to the clean eating fad?
On arriving at Farmacy, I stepped into a light and airy interior. I like how the space has been tastefully furnished with plants complementing the light woods and green colour scheme. Perhaps this is not surprising since the restaurant was opened in chi-chi Notting Hill by Camilla Al-Fayed, the daughter of the colourful former owner of Harrods.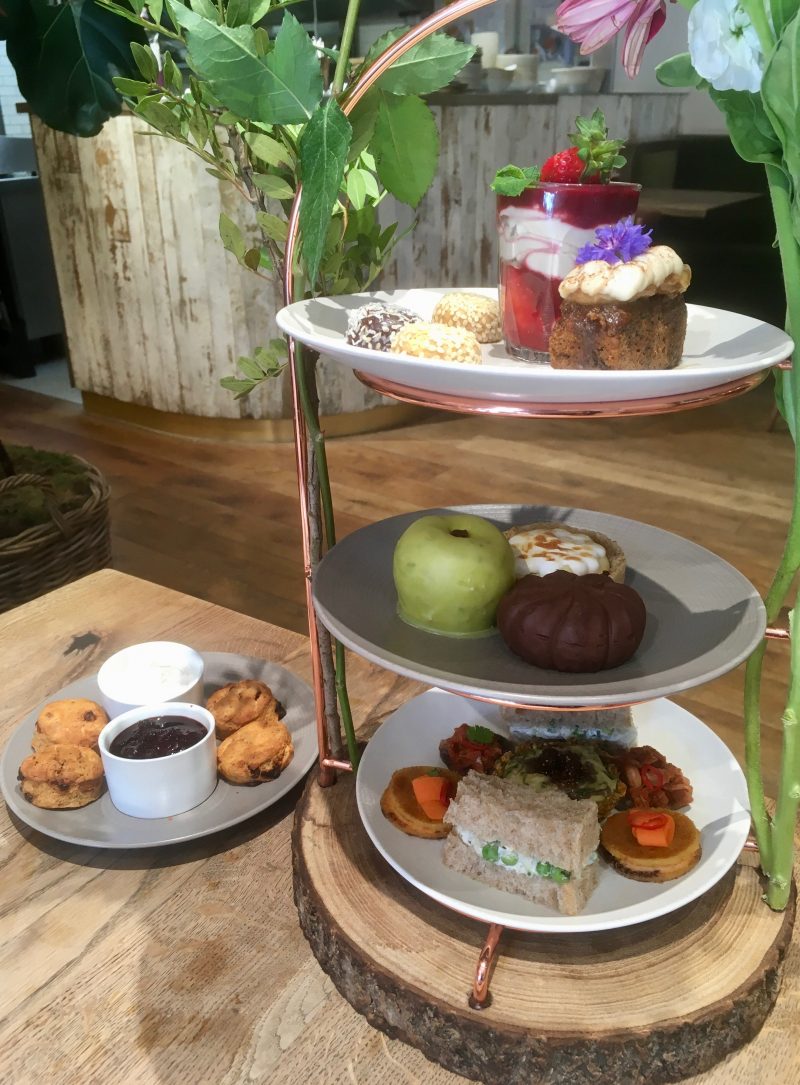 We were quickly offered a cocktail made from an infusion of rose and raspberry mixed with an artisanal vodka to start. Unfortunately, it tasted of cough medicine which didn't bode well for the rest of the afternoon tea experience. I suppose it was living up to its name though.
"… we had a mock apple which looked like it was made of wax and starting to melt."
The waitress soon arrived to present us with a triple-tiered stand on which a variety of savoury and sweet vegan snacks were served. This came alongside a plate of vegan 'scones'. As was suggested, we started from the bottom savoury tier. My first bite was of the cucumber and pea sandwich containing a white liquid which left an unpleasant taste in the mouth. Then I went for the smoked carrot with chickpea blini which was slightly more palatable. The 'raw quiche' tasted nothing like a quiche and contained a slimy 'spinach cream' which tasted faintly of cheese.
A good scone should be fluffy and crumbly with a golden hue on the outside. The vegan ones we had were dense and if they were a little harder, could have been passed off as biscuits. However, we did at least find them edible. They came with a coconut cream instead of clotted cream and a berry compote which provided some much-needed flavour.
Moving onto the second tier, we had a mock apple which looked like it was made of wax and starting to melt. It was supposed to be the Farmacy version of apple pie but had the consistency of soggy bread. The chocolate and praline ganache looked like a lump of plasticine and lacked the richness of flavour one would expect from actual chocolate. The imitation lemon meringue pie had the most unappetising appearance and was far too sharp.
By the time we reached the top tier, I was growing tired if the entire ordeal. The spoonful of the strawberry and cashew mousse and the chocolate truffle were fine but were not enough to salvage the experience. The rose tea was very welcome as a means to cleanse my mouth of the lingering bitter aftertaste.
As I mentioned before, vegan food pretending to be something else just doesn't work. Vegan food like this may prolong one's life but I'm not sure the additional years are worth enduring another Farmacy afternoon tea.